27-10-2014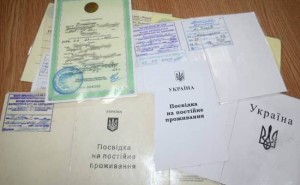 SSU of Transcarpathian region liquidated the channel of illegal transportation of persons through the state border…
It was established that the criminal grouping consisted of the resident of Ivano-Frankisvk and two inhabitants of Transcarpathia.
The violators made forgeries of the documents and provided the migrants with clear instruction concerning the border cross.
On October 18, the staff of SSU in Ivano-Frankivks region made two operations stopping the illegal cross of the state border of Ukraine.
Two citizens of Ukraine were apprehended at the border post "Uzhgorod" – the executors of the false documents and a violator returning from the border area with forged passport.
At the same time, in Berehovo, Transcarpathian region the law enforcement agent detained the resident of Ivano-Frankivsk region – the third member of the criminal grouping.
After the searches made at the place of the suspected persons, a great amount of forms of birth and marriage certificates, passports of the citizens of Ukraine, Ukrainian passports for travelling abroad, a sufficient quantity of the form of various state establishments were found.
On October 20, SSU investigators suspected the violators in crime commitment stipulated by Part 2 Article 332 of Crime Code of Ukraine. The degree of guilty concerning each violator will be defined by the court.
Source: http://www.ua-reporter.com/novosti/158539