07-12-2014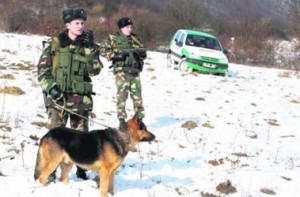 The staff of Chop Border Detachment detained 5 illegal migrants from Afghanistan and Sri Lanka. The group had just approached the border on Slovakia. There were 2 children among the migrants of the age 16 and 17.
The migrants' movement was noticed by the border detail "Novoselytsya" of Chop Detachment. When the travelers were trying to cross the state border, they were apprehended. The detainees had no documents, however, 4 of them introduced themselves as the citizens of Afghanistan and one more of Sri Lanka.
"Detainees explained their wish to get to one of the countries of European Union. They were assisted by unknown persons. Shortly before their detention by the border detail during their trip in the mountainous area, these unknown persons showed migrants the way and hided", – it was reported in the Press Service of State Border Guard Service of Ukraine.