25-03-2015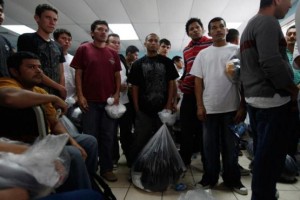 25 illegal migrants were detected by the staff of Migration Service of Transcarapathia in cooperation with the policemen and border guards in the frames of the practicing under the conditional name "Migrant" conduced in the period of March 10-24.
The results of the target prophylactic actions directed upon the prevention and counteraction to illegal migration and other violations of the Ukrainian legislation in the migration sphere were analyzed at the meeting in the Main Office of State Migration Service in Transcarpathian region.
At the present moment almost 3.5 thousand foreigners reside in the area on temporary or permanent basis.
There are 68 foreign citizens called to administrative account for violation of the stay rules in Ukraine and 32 Transcarpathian residents for invitation of the foreigners and provision them with dwelling.
In the course of practicing realization, the staff of the Service made 13 decisions on compulsory return of the foreigners to the countries of their origin (8 citizens of Russian Federation, by one from – Azerbaijan, Vietnam, Moldova, Sudan and Uzbekistan), out of them 3 persons were forbidden to enter the country.