20-10-2015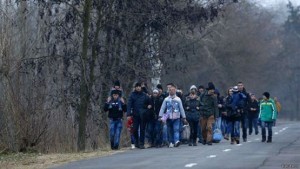 Eight citizens of Afghanistan and a probable smuggler were apprehended by the border guards of Mukachevo Detachment.
The group of "travelers" was stopped by the border detail servicing in the area of border post together with MOI officers in order to check documents nearby the populated area of Beregovo.
All detainees reported that they originated from Afghanistan during the verification. Local resident was also apprehended with the illegal migrants. So far, law enforcement agents verify his involvement in the assistance to illegal transportation of persons through the state border of Ukraine.
Also, border detail of Mukachevo Detachment noticed the movement of six unfamiliar persons towards the border in the area of BS "Goronglab" at night during their servicing at the observation tower. Reaction group started to the place together with the border detail, detainees were caught some meters before the border line.
The men did not have any documents, however they introduced as the migrants from Iraq. The border guards prepared the protocol on administrative infringement and detainees were delivered to border subdivision for circumstances establishment…