23-12- 2015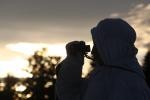 Two persons intending to get from Ukraine to Moldova beyond the check point in illegal way were detected in the course of the joint patrol of the Ukrainian border guards and members of the Border Police of the Republic of Moldova.
The men were stopped 300 meters before the border area in Tarutinskiy district, Moldovian village Valya-Perjei. Now the violators – a citizen of Sri Lanka without documents and Ukrainian citizen are detained to ascertain all the circumstances. According to the foreigner's words, someone promised to take him secretly to Moldova. He was assisted by the Ukrainian citizen – resident of the border village, who was detained together with the Sri Lanka citizen while trying to cross the border illegally. For his unsuccessful attempt illegal migrant had already paid over 5000 US dollars to the unknown persons. Currently, an investigation goes on. This is not the first result of productive cooperation between Ukrainian and Moldavian colleagues being performed under the aegis of the European Union Border Assistance Mission to Ukraine and Moldova (EUBAM).
During the day, the staff of State Border Service officers detained one more illegal migrant. Being without documents, according to his words, the citizen of Gambia being discovered by the border guards of BS "Belz", Lviv Detachment close the border on Poland. It was preliminary established that in Ukrainian Gambian arrived as a student in 2013.