24-12-2015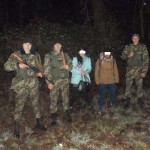 Georgian and Ukrainian attempted to get over the fence in order to reach European countries.
Border guards of BS "Uzhgorod" stopped the attempt of illegal cross of the state border. Border detail detected 2 persons in the course of verification actions nearby the state border line, who intended to get over the fence and to reach Slovakia in illegal way. The violators had identification documents testifying their nationality. These were the citizens of Georgia and woman from Ukraine.
So far, administrative procedural documents are composed with regard to the persons and their cases are handed for consideration.