21-02-2016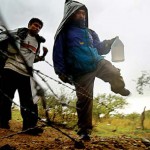 For the last year the flow of refugees from Asian countries to Europe has enlarged in 6 times. The groups of illegal migrants are caught here, every week, and sometimes two times a week attempting to cross the border at Transcarpathian check points.
The smugglers charging for transportation usually take to the buffer zone, – here, as in the gleam of trees Europe is already seen. However, to overcome these 50 meters – is the most difficult thing. Here, they are caught by the border guards, namely, by means of thermal surveillance devices. Mainly, at night, and in the middle of the week, and on the weekends. They do their job well, recently they got complement from Hungarian colleagues' receiving a thank for work upon EU mission.
TOUR TO TEMPORARY HOLDING FACILITY
From the border refugees are delivered to Temporary Holding Facilities. There is one in Mukachevo (the same is in Chop). In the course of the last year, 496 persons passed through it for the last year. It is six times more than in 2014. The range of refugee flow from Asia to Europe grows in this way.
Thus, we also get to THF to learn the hard way of being a refugee in Ukraine. We come having "tour" in the morning. Usually refugees are delivered from the border in the morning, or at least in the afternoon. A car starts from here to take them – so-called customized taxi. Till it reaches Border Service in the area of where detention of migrants takes place (there are 16 places in the area of Mukachevo Border Detachment), a primary interview is conducted at the border during this period of time. Then, border guards' talk with illegal migrants continues in THF. First, we enter the interview room. It is a small premise, perhaps 2х3 meters. There is a table, two chairs opposite it, camera, lamp and photographing equipment, a pen and paper on the table.
– Biometrical data are taken here, photos are taken, identification records are made. Migrants' cards are done for Ukrainian Data Bank and for Interpol. These procedures take about 30 minutes. Traditionally, women are interrogated by female officers, men – by male officers, – it is reported by Konstantin Rukin, head of Foreigners and Administrative Proceedings Department in Mukachevo Border Detachment.
OFTEN COMPLAINTS OF TUBERCULOSIS
After interview a person is taken to Medical Room. Here, illegal migrants undergo primary medical examination. Usually, they get to THF to be dirty, caught by the frost, with bruises and scuffing, as to the last when they are noticed by the border guards people with all their strength try to flee – at random, through the dense forests and swamps. The meaning of their life is to reach and cross the border.
– Many of the detainees make complaints of health. In the course of the last year about 25 persons reported about having tuberculosis. Disease was confirmed in 5 persons. Thank God, it was closed form. If illegal migrants complaining of some serious problems with health – ambulance is called, and even pediatrician – for children. The drugs for first aid rendering are provided by Red Cross: bandages, bacterial purification, viricides – it is very actual in winter period, – Konstantin Anatolievich marked.
During their stay on the territory of THF (these are 3 days determined by law) – they are given slippers, T-shirts and sports trousers.
PAKISTANIS LIKE GRILLED CHICKEN
Now, we may have rest. After interrogation and medical examination our way is to the cells. They are of family type in the majority. Because the groups of illegal migrants are mainly families with children – from newborns to youth.
There two-storied beds, table, chairs, bedside table in the room. Elementary furniture set, there is place to have rest, to hang clothes. There is a folding window on the iron doors through which environment in the room is seen. Officer on duty looks in it from time to time.
There is also a kitchen, dining room, laundry, even improvised gymnasium: one may play basketball (for psychological relaxation?) to throw the ball to the basket, on the territory of THC. The gym also serves as "smoking-room": there benches and ash can.
I notice some children toys in the kitchen. I ask whether there are a lot of children among the family-refugees?
– Majority, – he says. – They take into consideration that European authorities is more loyal to families with children, they are quicker granted refugee status, dwelling and social package. Thus, all children are accepted, there are also those, who during their stay in Ukraine give birth to children here expecting for happy moment to cross the border. Last year family with two children was apprehended, the next year – she had already three of them.
The ready food is taken to the dining room, which serves the border guards of Mukachevo detachment.
– Though, illegal migrants sometimes prepare food themselves, especially Pakistanis. They like grilled chicken,- Konstantin Rukin tells.
TACTICS OF ILLEGAL MIGRANTS: CATCH HOLD IN UKRAINE AND TRY AGAIN
Getting acquaintance with the territory we stay in the kitchen to talk about the peculiarities of illegal migrants' life in Ukraine.
– Refugees stay 3 days in this Temporary Centre, they will undergo the court procedure, then a train ticket and a return back to Migration Service to Kyiv, Odessa or Vinnitsa. We need only to deliver them. Three days are needed to identify migrants, fill in migration cards – for interior use and separately for Interpol.
Then, by algorithm a court is appointed, where detained persons at the border shall be sentenced to deportation to the country of their residence, a permission be given on their temporarily stay in Ukraine and procedure on refugee status granting to be started as well as to recover a fine to State Treasury for attempt to cross the state border in illegal way. It is 3.4 to 8.5 thousand UAH. However, they usually do not come to the court, where fine is appointed, thus not paying it.
If they still apply for refugee status, we shall take their application, submit it to Migration Service for consideration. Often happens paradox – persons undergoing the procedure on refugee status granting in Ukraine concurrently get into the hands of the border guards who patrol the border during the next attempt of illegal crossing. In this case, we again submit an appeal on right deprivation for refugee status granting to Migration Service. It happens that the same persons are detained at different check points of the border 3-4 times.
They have a tactics: somehow to catch hold in Ukraine and waits for the next time. Perhaps, they will be lucky to be not caught some day. Here is the touch-last game between the migrants and border guards. As it is said "Catch me if you can!".
– Sometimes refugees stay here for years. It happened, when one and the same families were apprehended over a year, two years. They wait until someone transfers them money, then again attempting to cross the border with the next smuggler, – Rukin explains.
– Do you deport many people?
– 31 persons had to be deported by documents last year. In total, 18 persons were sent to the country of their origin.
– Is it possible to calculate how much does it cost for Ukraine to send one refugee?
– Let's try. About 8 border guards are involved in illegal migrant's apprehension: this is reaction group, and officers, who then register, make an inquiry, accompany. This is staff to be paid for work (the average salary of the border guards is 2500 UAH. Then, there are transport costs. First, it is petrol for refugees' transportation from the border to Passport Visa Department, from there – to the railway station. And in case of deportation – there are costs for a ticket. Home return is paid by the government, it is seldom done by the refugee himself. The flight tickets are sold in US dollars, as it grows, so we bought the ticket for the citizen of Georgia for 2500 UAH last year and now it is almost 5000 UAH.
For example, a ticket to Vietnam costs 13 000 UAH. The costs for PVD maintenance should be also considered: for electricity, heating, maintenance of premises, food costs. According to my calculations, if we take the average value, so one refugee in Ukraine will cost 8-10 000 UAH.
– Do volunteers support you?
– So far, there are two organizations assisting us in it. It is Red Cross – they provide us with medications, hygienic means, phone cards. There is also "Nika"  – organization providing legal aid to the refugees, their specialists come and explain rights and Ukrainian refugee legislation. We also cooperated with Caritas, recently they have finished the project, its volunteers provided every illegal migrant with the "refugee pack". It contained tooth brush and paste, soap, toilet paper, bag lunch (tinned food and condensed milk), clothes (illegal migrants usually make their personal clothes to be dirty or tear it when trying to escape detention), slippers.
– Do border guards get awards when catching trespassers?
– No, it's part of our duties – Rukin smiles. – In addition, our work is controlled by foreign colleagues as well, because if you miss the refugees at out border, and the Hungarians will catch them on their territory – insinuations will be made towards us. So, last year we received a compliment from Hungarian colleagues. They reported that we caught 50% of all illegal immigrants who were detained at the Ukrainian-Hungarian border. By the way, the invasion of illegal migrants, from which Europe is in shock – 340 thousand people arrived during the last year – they did not come from the Ukrainian borders. Only 10% of refugees get there through Ukraine. The main loading is at the Hungarian-Croatian and Hungarian-Serbian borders.
THERE ARE ILLEGAL MIGRANTS BEING DETAINED AT THE BORDER FOR FOUR TIMES
The greatest number of apprehended illegal migrants in Transcarpathia are former residents of Afghanistan. The second place is possessed by the Syrians (according to data of the previous year).
– Even the scheme itself is interesting according to which the Afghanis overcome this way through the half of the globe to the cherished EU, – Konstantin Rukin tells. They look for a person in Afghanistan, who is going to organize the delivery. It costs different from $20 th. per a person to $75 th. for the family. The money is given only after they reached Europe. Thus, there are some many attempts of crossing. Then, this person founds the smugglers in Russia, Ukraine, Hungary and he pays for their work. If illegal migrant is detained, he makes more attempts. Additional money is send for this purpose by the relatives, as a rule, those already reaching Europe before, they live there and earn pretty well.
Therefore, it happens so that border guards catch several times one and the same people sometimes in the composition of different groups.
– As a rule, two or three times, however, there are record holders being detained even 4 times – Rukin says. – For example, a family from Afghanistan. A husband, wife and son. They were apprehended in Chernovtsy for the first time, twice in Transcarpathia, and the fourth time it happened  in Odessa. The husband is an engineer, well educated, knows English on professional level. He worked together with his wife at the Odessa market. The son is now 10 years old. They fled from Afghanistan as some persons wanted to take their son for ideological training. According to their words, it was the last drop – they sold everything and escaped the country. Thus, these people persistently make attempts to cross the border. We are unable to understand their sense of life. They agree to suffer humiliation, attack the border through the wood and swamps being exposed to danger together with children; they proceed again and again.
– Does the government punish a person for illegal cross of the border?
– There are fines, but almost no refugee pays it, because in the moment when the court determines the punishment they already disappear out of the Migration Service' sight. They do not have registration, thus Executive Service cannot recover this fine. Only, if they wish to pay themselves.
– Is there criminal responsibility for attempt to cross the state border?
– No, there isn't. There is only responsibility for illegal border crossing organization. During the last years the smugglers of illegal migrants' groups were imprisoned.
In other words, it is imperfect legislation. Somehow, it seems that considering the sums the "guides" in Ukraine and beyond its borders make business on it, legislation in this field will never be perfect.
THE VERY FEW REMAIN IN REFUGEE STATUS IN UKRIANE
– Many of those undergoing your procedures are granted refugee status and stay in the country, particularly in Transcarpathia?
– No, but these are very few. The majority attempt to flee again and again. But there are those who were lucky to settle down here. There is Temporary Holding Facility in Mukachevo with a dormitory on its territory , there is also a greenhouse, where they grow greens and vegetables. The most part of migrants are not occupied, just some work at the local plants. We also know that some refugees work at the market as unskilled workers. They get social assistance from the government, also volunteer charitable organizations take care of this Centre.
There are very of those whose life here turned to be good in Ukraine. There is one Syrian with its own business has recently visited Germany, and he came back. Also, the ex-resident of Sri Lanka tried to start tea business here. He was well, but upon currency grow he stopped his business as it became non-profitable. One more Syrian became a star of local football – he was the player of one of the district teams. By the way, he occupied himself here as an official translator. He knows five languages. He is often invited for the inquiries, when detainees do not know the language.
ILLEGAL MIGRANT: IT IS RATHER HARD TO CROSS THE BORDER
After a talk with the officer-border guard we go to communicate with illegal migrants, which have been just delivered here. It is Afghani family. Husband, wife, two daughters, the older is 25, younger is 9, and the son 16 years old. The little girl running through the swamp at night twisted her leg, and now she limps. However, she does not snivel, she is calm – it is not even felt that a child is in stress. Perhaps she has already recovered or got used. It may be supposed that she has never been in similar situations before – considering that they were detained while crossing the border in Transcarpathia for the third time. Last time their family was here in the end of January, a month ago.
– That time they were apprehended in another check point and in the composition of another group. – Konstantin Rukin tells. – They were delivered to Kiev. Now they are here again. They will stay here for night and will be sent tomorrow – there is no need to identify them and keep here for three days. By the way, they are in procedure of refugee status granting. Now we will apply for this right deprivation – for the recurrent illegal attempt of crossing the border.
…A tired man sits in the corner of the room, he look like being 50 years old. There are dirty shoes near him and jeans with mud stains. Now is dressed in clean governmental clothes being given in such case here. There are cigarettes and lighter on the table as well some document. He is the only person of the group speaking poor Russian. He told that had learned it during the Soviet times. He is policemen, serving military officer.
The man agrees to give interview. He tells shortly his story in poor Russian. The family is from Afghanistan, they lived in Kabul. They are experienced refugees. They escaped their country long ago, until quite recently they resided in Palestine, then he decided to flee to Europe.  Children were the reason.  He has three daughters, and in Afghanistan the girls are kidnapped. They are under permanent danger.
They lived in Kiev, worked at the market. The man tells that he earned little, it was hard to feed the family. It is not accepted that the women are to work in their country of origin.
Furious desire to get to Europe amazes and along with it – unwillingness to reject from Asian stereotypes .
– Will you try to get over the border again? – we ask the man.
– No, we won't, – he answers uncertainly. – It is very hard to overcome. It is the third attempt – no result. Будем пробовать жить здесь. Потому что домой все равно дороги нет.
…Painful taste remains after the talk with Afghani. We feel sorry for them – he lost his home, the girls did not want to leave their home, little girl not attending school, instead of this they run along Ukrainian woods. Let them go to Europe. And, Europeans would not understand our compassionateness.
Thus, the refugees will continue playing the tag game with the border guards. And the smugglers will continue earn millions on the refugees. Again and again … right up till lucky time, when finally they will manage to cross the border.
Source