25-03-2016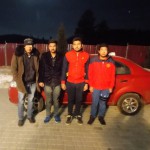 Four citizens of India were detained at the border of Lvov and Transcarpathian regions at night by the border guards of B "Syanki"  guarded area at the border on Poland. When performing regime actions in the border line at the high way Lvov-Turka-Uzhgorod the border guards noticed the car approaching the post, then returned and moved towards the town of Turka. Considering the risk of transporting illegal migrants and quick return of the car just before the post, the border guards organized its search and pursuit. In some period of time reaction group caught up and stopped the car.
Suspicions of the border guards were confirmed as there were four men of South Asian appearance, without documents, inside except the driver. Border guards found out that the detainees were the citizens of India, and the driver of the car was 43-year-old resident of the town, which at the request of the foreigners drove them into the border area.
So far, the Indian citizens are detained in administrative order till establishment of identity and circumstances of the offense and they are placed at Detntion Centre in Mostiskyi Border Detachment. Regarding the driver of the car transporting the migrants a report on administrative offense was drawn under Art. 206-1 CCU "illegal transportation of foreigners and stateless persons on the territory of Ukraine", the court will determine the sentence.