16-07-2016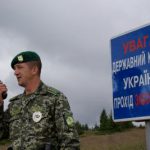 Transcarpathian border guards together with their foreign colleagues continue to counteract jointly unlawful activity at the state border. The next attempt of illegal migrants from Africa was stopped by military men of Chop Detachment and Hungarian law enforcement agents.
In the frames of join operations implementation on crimes at the state border, about 6 a.m. border guards of Ukraine and Hungary discovered and detained 5 illegal migrants from Afghanistan.
Thus, while performing monitoring the border guards detected the traces leading towards the border. Also local fishermen informed about some unfamiliar persons appearance at the Tysa River, who started towards the Hungarian border in the boat. Border guards of Chop Detachment sent received information immediately to law enforcement agents of neighboring side and started to the place of possible violation. In a result of conducted joint searching actions on the both sides of the border 5 illegal migrants were apprehended, three of them were children. As it was established, these citizens intended to get to EU countries aiming to seek better life conditions. Law enforcement agencies of Ukraine and Hungary take measures on clarification of the violation circumstances and establishment of persons involved in unlawful activity.