29-07-2016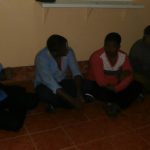 The staff of National Police together with Transcarpathian border guards detained four citizens of Sri Lanka and Ukrainian in Berehovo region, when they attempted to cross the state border illegally. The migrants were detected during the patrolling around Ukrainian border. The law enforcement agents apprehended four adult men having no money and documents. All were delivered to Mukachevo Border Detachment.
Illegal migrants were interrogated in the court reporting to be the citizens of Sri Lanka. They wished to get to the European Union through Ukraine.
The foreigners were transported through the border by the resident of Kalnyk village, Mukachevo region. The citizen of Ukraine assisted illegal migrants is announced about suspicion under Part 23 Article 332 of Crime Code of Ukraine, i.e. illegal transportation of persons though the state border. The issue is under consideration as to the pre-trial restriction selection. The man faces imprisonment for the term of 3 to 7 with confiscation of crime instrumentalities.