31-07-2016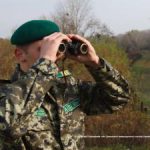 In accordance with the Agreements between Slovakian Republic, Poland, Hungary and Moldova State Border Guard Service of Ukraine performs a common patrolling at the joint borders. Holding these actions provides a qualitative control over the joint state border regimen, allows opportune prevention of illegal cross of the border and counteracts violations and crimes at the state border.
Thus, border guards of Chop Detachment together with Slovakian colleagues composed of border detail performing patrolling along the Slovakian territory 1.5 km before the border line apprehended a citizen of Turkey intending to get to one of the countries of European Union.
One more violator of the state border was detained also during the joint patrolling. The motion of unfamiliar person was detected by means of surveillance camera. The border guards arrived to the place immediately and detained the man without document. According to the words of the citizen of Ukraine he traveled to Slovakia. Further filtration measures continue with regard to the violators.
Source: http://dpsu.gov.ua/ua/news/ukrainski-ta-slovacki-prikordonniki-provodyat-kompleks-spilnih-zahodiv-shchodo-protidii-protipravniy-diyalnosti-na-dilyanci-kordonu-/