13-08-2016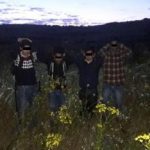 Two groups of illegal migrants were detained by the officers of State Border Guard Service of Ukraine, who intended to cross the state border in illegal way. Thus, the border detail of BS "Vilok"receiving operative information at about 2 a.m. discovered and detained three men without documents. They reported to be the citizens of India. So far, filtration measures are undertaken and circumstances of the infringement are under establishment.
Also, four more illegal migrants were detected by the border detail "Kosyno" of the same detachment. They were apprehended a hundred meters before the state border. According to their words, it was known that one of them was native of Bangladesh, and three others were from Nepal. The personalities of the violators and circumstances of the infringement are established.
All migrants intended to get illegally to Hungary.