05-09-2016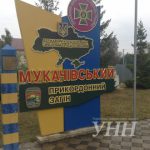 Mukachevo Border Detachment received the next planned reinforcing from the reserves of SBGS of Ukraine (Kyiv) and Western Regional Department of SBGS of Ukraine (Lviv). It is said about 70 persons of military personnel and 14 units of equipment – 13 off-road vehicles and mobile thermal-imaging complex. This kind of reinforcement assists in situation stabilization at the border; however, statistics on violations testifies that reinforcement remains to be a relevant arrangement. Thus, since 2016 border guards of Mukachevo Detachment fixed 36 cases of illegal migration as a result of which 181 persons were apprehended.
However, border guards assert that it is already possible to speak about dynamics of decrease in the number of cases as to illegal migration through the state border. Thus, within the similar period in 2015, Mukachevo border guards detained 309 migrants in 85 cases. This year – it is almost 60% less.
Planned staff and technical reinforcement of border detachments is performed in the frames of operation "Border-2016". Its objective is to stabilize the situation at the state border, make attempts of contraband and illegal migration to be impossible.
Source: http://www.unn.com.ua/uk/news/1599602-prikordonniki-mukachivskogo-zagonu-otrimali-pidkriplennya-do-osobovogo-skladu-ta-dodatkovu-tekhniku