05-10-2016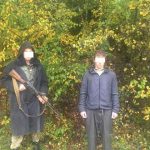 Border guards of BS "Knyagynya" of Chop Detachment detained two citizens of Ukraine intending to get to the countries of European Union in unlawful way.
Thus, a motion of unfamiliar person was noticed by Slovakian colleagues, who informed Ukrainian ones immediately. Not loosing time the law enforcement agents started searching actions at once. As a result of operative information exchange a man without any documents was apprehended 150 m before the state border line. According to his words it was established that he was the citizen of Ukraine.
One more "happiness seeker" was apprehended by the border guards, when he attempted to overcome the barrage fence. As usually, the violator did not have any documents, however, he explained to be the citizen of Ukraine (DOB 1991) residing in Zaporizhya region.
Both violators were delivered to the Detention Center of Chop Border Detachment to establish the circumstances of the offense and prepare procedural documents. As it was established later, the men were detained not for the first time by the border guards, who attempted to cross illegally the border. Their fate will be determined by the court decision.
Source: http://dpsu.gov.ua/ua/news/Prikordonniki-zatrimali-dvoh-porushnikiv-yaki-nezakonno-namagalisya-potrapiti-v-kraini-S/