07-10-2016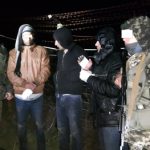 Border guards detected and detained a group of persons attempting to cross the border and get to EU countries in illegal way in the area of Berehovo district, Transcarpathian region. Border detail in the composition of cadets of National Academy of SBGSU discovered unfamiliar persons moving towards the state border were discovered by means of mobile thermal imager. it will be marked that cadets have arrived to Mukachevo recently within the frames of active measures strengthening focusing upon fight against the unlawful activity at the border.
Trying to overcome the protective fence three "travelers" realized to be notices by the border guards and start to run away. However, they failed to do this, and in a result of planned and agreed actions of future border guards the illegal migrants were apprehended. They did not have any documents. According to the detainees' words they were the citizens of Syria, the other – from Egypt, and more from Pakistan.
Detainees were delivered to Border Department. So far, there is establishment of the circumstances and preparation of administrative-procedural documents. Decision on responsibility before the law and their further destiny will be determined by the court.
Regardless of cold weather conditions, the foreigners got frozen much, and smugglers left them to the mercy of life.