23-10-2016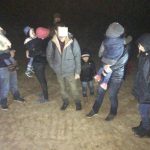 Some groups of illegal migrants in the number of 12 persons were apprehended today by the staff of State Border Guard Service.
Border guards of Mostytskyi Detachment detected 9 persons close to the village Malniv, Lviv region, in a result of information processing received from operative departments. The trespassers were apprehended 10 m before the barrage fence. there were 5 adults and 4 children. Two men, a woman and two children had documents of Turkish citizens. One more man, woman and two children were from Vietnam. All detainees got to Ukraine by legal way, however, then putting their children' life under the danger decided to cross the through the woods beyond the check point. The group was delivered to Border Department, where they were offered hot drinks and warm clothes. Protocols as to Part 2 Article 204-1 of Administration Violations Code of Ukraine were drawn up with regard to the violators. So far, the circumstances of their illegal trip are processed.
Besides, border detail of BS "Kosyno", Mukachevo detachment, apprehended three illegal migrants – a citizen of Cameroon, Cote d'Ivoir and Guinea. Two violators had no any documents, one more had Ukrainian residence permit.
So far, filtration measures are undertaken concerning the detainees.
Source:http://www.unn.com.ua/uk/news/1612155-prikordonniki-zupinili-bilya-kordonu-12-nelegaliv-sered-yakikh-4-ditey