08-12-2016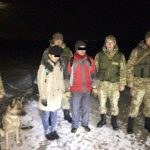 The officers of SBGS and National Police prevented one more attempt of organized transportation of illegal migrants to Poland. In the frames of criminal proceedings under Part 2, Art. 332 of the Criminal Code "Illegal transportation of persons through the state border of Ukraine" border guards received information on possible violations at the state border of Ukraine. The border guards reinforced the protection of the Ukrainian-Polish border and arranged additional border patrols on the way of possible illegal traffic. Two violators were apprehended around midnight by the border patrol "Shehyni" Mostyska unit detained two unknowns. The detainees were a man and women without documents, according to their words 1976 and 1999 DOB, both citizens of Vietnam.
In addition, the staff of Operational and Investigation Department and Department for Organized Crime Control for Human Trafficking arrested the organizer of the illegal smuggling in the course of further operational measures in Lviv. Currently investigative actions are carried out in relation to other participants in the offense.
As to the citizens of Vietnam, documents on administrative infringement were prepared in accordance with the Part 2, Article 204-1 of Administrative Infringement Code «Illegal cross or attempt to cross the state border of Ukraine», court will make a decision in respect of the violators.
Source:http://dpsu.gov.ua/ua/news/Pravoohoronci-zavadili-organizovanomu-perepravlennyu-za-kordon-nelegalnih-migrantiv-iz-Vtnamu-/