25-12-2016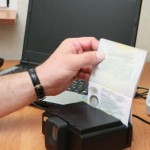 Border guards of Boryspil airport did not pass three foreigners intending to cross the state border with forged documents. While checking in the passengers of the flight "Stockholm-Kyiv", the staff of State Border Guard Service detected a citizen of Iraq having forgery signs in the document, namely replaced pages with constituent data.
Two more violators travelling by the flight "Istanbul-Kyiv" by forged passports were stopped by the border guards during the documents check. Foreigners had documents of Greek citizens having pages replaced containing constituent data. In the course of the interview detainees reported the law enforcers that they were the citizens of Syria, and forged documents were bought for $20 000.
In both cases border guards informed the representatives of National Police about the facts of revealed infringements. The citizens were not passed through the border and were returned by a back flight.
Also, the staff of State Border Guards Service apprehended five citizens of Moldova in the check point "Kuchurgan", who tried to cross the state border of Ukraine by forged personal documents, namely – passports for travelling abroad contained inserted pages with information about permanent place of residence on the territory of Russia. Administrative materials were prepared as to these citizens.
Besides, technically invalid document was revealed in the citizen of Moldova in the check point "Novi Yarlychovi". The man attempted to get to Russian Federation having passport with cut off pages. The citizen was sent to Moldova Embassy in Ukraine in order to draft corresponding documents.
Source:http://dpsu.gov.ua/ua/news/v-punktah-propusku-prikordonniki-viyavili-9-inozemciv-z-pidroblenimi-ta-tehnichno-nespravnimi-dokumentami/