05-02-2017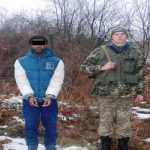 African intending to get to Romania in illegal way was detained recently by the border guards of Mukachevo Detachment. The representatives of Public Formations informed about the appearance of foreign "traveler". The border guards arrived immediately and organized operative and searching actions in a result of which indicated person was detained in the suburb of the village Khyzha. The man did not have any documents introducing himself to be the citizen of Cote d'Ivoir. While performing filtration actions, the border guards learned that the foreigner arrived to Ukraine in legal way. The man has lived in Ukraine for a certain time and soon decided to try an illegal trip to one of EU countries.
Border guards delivered detainee to Temporary detention Centre of Mukachevo Border Detachment. O far, measures are undertaken as to search of persons involved in unlawful activity. State Border service continues to realize activities focused on non-admission of illegal border cross in the frames of illegal migration counteraction.
As it was informed before, the border guards of Mostytskyi Detachment in cooperation with Operative Searching Border Department and officers of Department on Crime Combating connected with Human Trafficking of HD MOIU in Lviv region detained a group of illegal migrants from India who tried to enter the EU.
Unknown persons were detained in the village suburb of Butsiv Mostyska district, Lviv region, 100 meters before the state border. Six men aged 21 to 28 years old having documents of Indian citizens attempted to find the place, where border passes between Ukraine and Poland.
the citizens were apprehended in administrative order, the documents were prepared on administrative infringement committed by the group of people under Part 2 of Art. Of Administrative Infringement Code 204-1 "Illegal crossing or attempt to cross the state border of Ukraine in illegal way, committed group of people.
Source:http://dpsu.gov.ua/ua/news/prikordonniki-mukachivskogo-zagonu-zatrimali-afrikancya-yakiy-mav-namir-nezakonno-peretnuti-derzhavniy-kordon/