24-02-2017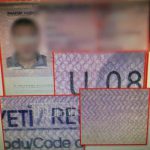 The staff SBCP "Kyiv" of State Border Guard Service found four fake passports of citizens of Turkey during the border control in the Boryspil Airport.
The couple with two young children traveled by from Tehran and had to get a flight "Kyiv-Minsk". According to parents words, a couple had to receive the other packet of forged documents in Belarus for further travel to Switzerland.
However, they failed to fly with forged documents in Ukraine. The falsification signs were noticed immediately in the course of the passport check. Iformation pages were replaced inall four documents for traveling abroad.
Source:http://dpsu.gov.ua/ua/news/u-borispoli-prikordonniki-viyavili-chotiri-pidroblenih-pasporta-gromadyan-turechchini/