06-07-2017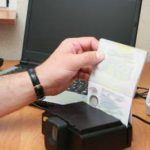 Border guards of Separate Check Point "Kyiv" revealed forged foreign passport of the citizen of Israel in the International Airport Boryspil during checking of the flight "of Tel Aviv-Kyiv".
During the documents inspection the inspector doubt in the document validity bearer's personality. When checking border guards found that the passport really contained partial signs of forgery, in particular – the photo was replaced.
The citizen of Georgia Use attempted to use the fake passport. During the interview 27-year-old man reported that his valid passport Georgia was destroyed during flight. The person was rejected in crossing the state border of Ukraine and soon would be returned by a back flight.
Source: http://dpsu.gov.ua/ua/news/v-aeroportu-borispil-prikordonniki-viyavili-u-gromadyanina-gruzii-pidrobleniy-pasport/