22-07-2017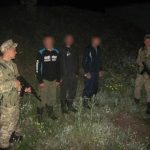 Border detail of Sumy Detachment detained three trespassers 100 m before the state border close to the populated area Ryasne, Krasnopilskyi district, Sumy. All three men were the citizens of Russian Federation crossing illegally Ukrainian-Russian border from the Russian area to Ukrainian one on foot beyond the established check points.
As it was clarified later, 39-year-old man had a military service card, 27-year-old man had national passport of RF citizen and 15-year-old man did not have any identification document.
Currently, detained Russians are delivered to border sub-department for applying filtration measures and drawing up procedural documents.
For illegal cross of the state border of Ukraine materials were prepared as to 27-year-old Russian according to the Article 204-1 of the Code of Ukraine on Administrative Offences, 39-year-old man was detained for 3 days for his identification. Afterwards these persons will be called to administrative responsibility for illegal cross of the state border/ Concerning the minor, he will be handed to the representatives of the Children's Service in Krasnopilsk District State Administration in established order for the applying appropriate measures determined by the legislation.
It should be noted that since the beginning of 2017, the border guards of the Sumy Detachment detained 196 violators of the state border, of which 16 were illegal migrants.
Source:http://dpsu.gov.ua/ua/news/na-sumshchini-prikordonniki-zatrimali-porushnikiv-derzhavnogo-kordonu-ukraini/