30-07-2017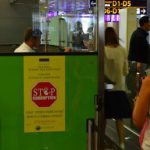 Two foreigners with forged documents were revealed by the border guards of Separate Check Point "Kyiv" in the Boryspil Airport.
Thus, during the check of transit passengers from the flight "Kyiv-London" the border guards revealed the citizen of China with forged documents of the citizen of Taiwan. The border guards found a page with constituent data replaced in this document.
So far, the person with false documents is not passed and returned by the flight to Turkey, the place he arrived from.
Source:http://dpsu.gov.ua/ua/news/dvo-gromadyan-kitayu-namagalisya-potrapiti-do-londona-z-falshivimi-dokumentami-gromadyan-tayvanyu/