27-08-2017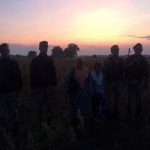 The border guards of Mostytskyi and Sumy Detachment revealed foreigners attempting to cross the state border in illegal way.
Thus, the staff of Border Department received information from local residents in Lviv region about the movement of unfamiliar persons of Caucasian appearance close to the populated area of Butsiv. In order to verify information the border guards of BD "Shegeni" together with the interacting bodies, started to the mentioned place. A 48-year-old citizen of Tajikistan was found with a child, YOB 2008, at the border. They moved towards the neighboring Poland to cross illegally the state border. Protocol was drawn up as to the citizen concerning her bringing to the administrative liability under Part 2 of Art. 204-1 AICU "Violation or attempt to violate the state border". The case was forwarded to the court.
And the border patrol of BD "Seredyna-Buda", Sumy Detachment near the Ukrainian-Russian border exposed a Moldovan citizen, who also intended to cross illegally the border. The detainee is currently under the verification process.
Source:http://dpsu.gov.ua/ua/news/spivrobitniki-prikordonnogo-vidomstva-zatrimali-inozemciv-porushnikiv/