07-09-2017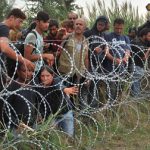 In 2015, the program of compulsory resettlement of 160 thousand migrants from Italy and Greece was adopted, which had to be completed on September 26, 2017. However, the EU countries failed to distribute even 30 thousand illegal migrants, mostly from African countries.
The countries of the "Visigrad Group" – Hungary, Poland, Slovakia and the Czech Republic were against the implementation of migratory quotas. Hungary and Slovakia filed a lawsuit in the European Court of Justice in Luxembourg demanding that the decision of the Council of the Heads of European Union's MIA as for the quota for the distribution of refugees to be repealed. However, the European Court has established that the decision on the forced distribution of refugees among the countries of the European Union is not illegal. Budapest reacted in this way upon the EU Court's decision, which rejected Hungary to cancel migration quotas. This verdict is supposed by Hungary as to be politically motivated, unacceptable and irresponsible. Budapest will look for legal ways to continue defining on its own whom to admit the country and whom not.
"We completely respect the decision of European Court. The European Court has formed a different legal assessment. However, our position is not changing. We will continue working to ensure that solidarity to be manifested in a different way than by accepting refugees who do not want to remain with us," said Slovak Prime Minister Robert Fico in response to the verdict. The decision of the European Court does not entail sanctions for Slovakia and Hungary, Robert Fico explained. The suit filed by the highest court of the European Union does not mean that there was any damage to the national interests, he added.