10-09-2017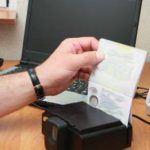 The staff of the Separate Checkpoint "Kyiv" revealed a foreigner with a forged foreign passport, when checking the passengers. The border guards discovered a foreigner at the international Boryspil Airport "", according to his words – the citizen of Uzbekistan, who arrived by the flight Antalya-Kyiv having passport of a Bulgarian citizen. The pages with constituent data were replaced.
During the interview with the offender, the State Border Guard Service found that the man bought a false document in Turkey for €2000. By the way, one more passport document of a citizen of Uzbekistan was found in the personal stuff also belonging to another person.
So far, this person has already returned by a back flight to Antalya.
Source:http://dpsu.gov.ua/ua/news/u-borispoli-prikordonniki-ne-propustili-inozemcya-iz-pidroblenim-pasportom/