24-10-2017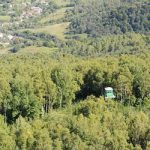 There are 150 km of border in Transcarpathia on Hungary, which is not under the border guards' control, this is a private property. Recently, 5 km of Ukrainian-Hungarian border had been in property. Three years ago 132 hectares, i.e. 34 plots, were distributed and rented nearby the check point Luzhanka. New landlords as if planned to grow corn and nuts on the defensive area with control line and watching towers. Instead, watching boxes and towers were constructed, where dealers with weapon and thermal imagers were on duty day and night. When there were no any border guards nearby, they smuggled illegal migrants and cigarettes to Hungary.
The private border had functioned for a long time. In the course of 2015 border guards apprehended 500 illegal migrants, since the beginning of this year – 70. How many refugees and contraband they managed to send to Europe, one can only guess.
Regional Department of State Geological Land Register gave the lands into private hands, so to say, the areas had belonged to collective farm before, and then they were delivered for unsoldering.
The border guards have been passing judgment already for 2 years as for the defensive land, the property right is already canceled, however, these areas are still not documented. The Prosecutor's Office accuses them in inactivity and has submitted law suits. The border guards are sure that there is no need to legalize the areas nearby the state border, as they are allocated to the Mukachevo detachment from the time of its establishment.
At the present moment, 5 km of Ukrainian land at the border on Hungary are juridicially nobody's. It is officially unknown whether there some other holes in the borders in Transcarpathia. There are hundred hectares of attached lands in the private property. These areas are long enough, but narrow, fenced by the bushes. It is the perfect condition for performing unlawful activity. There are still hided vans of the illegal migrants' smugglers and guides in the bushes just some meters before the border on Hungary. It is like a watching point of the trespassers, the border guards suppose. It is a good place for storing cigarettes and hiding the illegal migrants.
In order to establish the order at the border agricultural lands the guards lack this authority. Currently, they submitted a claim to the court appeal against the transfer of 90 hectares of land near Tysa for 49 years, in the middle of which there is a border line with Romania.
Source:http://fakty.ictv.ua/ua/videos/5-kilometrova-dirka-na-kordoni-z-yevropoyu-yak-pratsyuyut-ukrayinsko-ugorski-kontrabandysty/