10-11-2017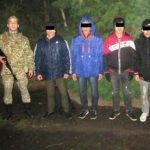 Last night, in the framework of target prevention activities "Migrant", the border guards of Mukachevo Detachment together with the staff of National police detained illegal migrants from Vietnam.
According to operational information the law enforcement officers found four men of Asian appearance without documents in one of the private houses in Berehovo district. The detainees, aged from 19 to 33 years, they introduced themselves as the citizens of Vietnam.
During the initial filtration actions performed by the border guards it was  found out that the foreigners got on the territory of Ukraine illegally and planned to continue their way to one of the countries of the European Union.
For further filtration measures implementation and preparation of administrative documents, the detainees were taken to the Temporary Detention Facility of Mukachevo Detachment.
The actions on circle of persons' establishment, who were involved in the organization of illegal migrants' trip are still continued. The further destiny of the travelers will be determined by the court.
Source:http://dpsu.gov.ua/ua/news/chotiroh-nelegaliv-iz-vtnamu-zatrimali-prikordonniki-na-zakarpatti/