29-12-2017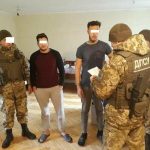 The staff of SBGSU detained the organizer of illegal migrants' smuggling – the citizens of Sudan, who organized the movement of their compatriots across the border. However, as it was established by the operative agents, the man was not limited by the preparation for one person to cross illegally the state border.
In the course of the investigative actions within criminal proceedings according to the classification Part 2 Art. 332 Crime Code of Ukraine, the operative agents of the Western regional department received information about the group of illegal migrants. Further on, a joint team at the participation of the employees of Operative-searching department, the servicemen of the Lviv Border Detachment and the staff of Migration Service of Ukraine discovered two more potential illegal migrants – citizens of Morocco, who were without documents in a private house in the city of Lviv. According to the foreigners' words, they planned to get illegally to one of the countries of European Union.
The foreigners were taken to Border Guard Department in Lviv region, where they were brought to administrative responsibility according to Art. 203 of AICU, as well as the decision was made on forced return of migrants during 15 days and the prohibition of entry to Ukraine over the next 3 years.
Source:https://dpsu.gov.ua/ua/news/u-lvovi-prikordonniki-viyavili-dvoh-marokkanciv-yaki-planuvali-potrapiti-do-krain-s/