08-01-2018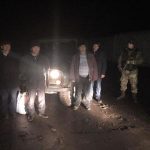 Last night the border guards of BD "Kozacha Lopan" received information from the local inspector of the Border Guard Service about a group of unknown persons moving towards the RF border. Several minutes later, the border patrol together with the district inspector detained "explorers" trying to cross illegally the border from Ukraine at a distance of 200 meters. Two detainees were the citizens of Georgia, one of Azerbaijan being accompanied by the citizen of Ukraine.
After fixation of the offense signs these persons were delivered to the border subdivision for drawing up administrative and procedural documents.
Concerning the Georgians and Azerbaijani protocols were prepared according to Article 204-1 of AICU "Illegal cross or attempt to cross illegally the state border of Ukraine", and our country fellow will have to bear the liability under Article 332 of the Crime Code "Illegal transportation of persons through the state border of Ukraine", a corresponding statement about detection of criminal offense signs was sent to the National police.
Source:https://dpsu.gov.ua/ua/news/troh-porushnikiv-derzhavnogo-kordonu-ta-ihnogo-providnika-zatrimali-prikordonniki-harkivskogo-zagonu/