20-01-2018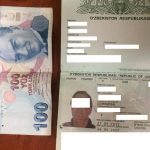 For the past day the border guards were twice offered the bribe by the foreigners.
Thus, the staff of SBGS documented an attempt of providing improper benefits in the amount of 100 Turkish Lira at the international airport "Kharkiv" by the foreigner, the citizen of Uzbekistan. She wanted to pay the border guards of Kharkiv Detachment for unhindered crossing of the state border at the checkpoint "Kharkiv-air" – namely, not to check at the second line of control.
Also, $ 200 was offered by a citizen of Georgia to the border guards of the Chernihiv Detachment at the checkpoint "Novi Yarylovychi". Monetary remuneration was offered by the foreigner for free entrance and not making a decision on refusal in admission to Ukraine, as in 2017 he exceeded the term of stay on its territory.
In all cases the officers of SBGS refused to accept the bribes and registered the violators in established order.
Source:https://dpsu.gov.ua/ua/news/prikordonniki-vidmovilisya-u-dvoh-vipadkah-vid-proponuvannya-habariv-inozemcyami/