28-01-2018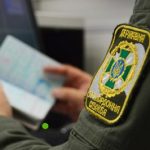 The border guards Separate checkpoint "Kyiv" found a foreigner with a fake document.
Thus, the staff of SBGSU disclosed the foreign woman during passengers' registration for the flight "Kyiv – Munich" at the international airport "Boryspil". She provided the passport of the citizen of France with signs of partial forgery. In the course of the further check it was established that 29-year-old foreigner was a citizen of Iran who arrived on a flight from Ankara. She bought this false passport for 3.5 thousand Euros namely there. The transit way through the airport "Boryspil" was impossible for women.
Now the citizen expects for return by a back flight.
Source:https://dpsu.gov.ua/ua/news/35-tisyachi-vro-na-viter-abo-prikordonniki-zatrimali-inozemku-iz-nediysnim-pasportom/