01-02-2018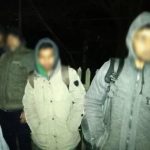 The staff of operational units of the Southern Regional Department of SBGSU together with the representatives of the State Migration Service and the Directorate of the National police in the Odessa region carried out a number of activities to identify the violators of immigration laws.
Due to the joint actions of law enforcement officers, in the village Prylemanske, Odessa region, 4 illegal migrants, citizens of Bangladesh, were revealed.
During these actions it was established that all identified foreigners arrived from the Southern Asia, stayed in Ukraine violating the existing immigration laws. The foreigners were detained for making the court decision.
Source: https://dpsu.gov.ua/ua/news/spivrobitniki-derzhprikordonsluzhbi-ta-migraciynoi-sluzhbi-na-odeshchini-zatrimali-4-nelegaliv-iz-bangladesh/