27-02-2018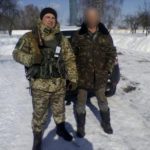 Joint interagency group, which includes members of the investigative units of SBGS, the border guards, the representatives of the National police and Migration Service in the framework of the operational preventive actions "Migrant", the citizens of Russia and Iraq were revealed violating the Ukrainian legislation.
In the course of the planned activities performance in the village of Gorky, Putivl district, the law enforcement officers of BD "Nova Sloboda", Sumy Detachment, detected the citizen of Russia who lived in Ukraine having a residence permit, the validity of which expired in 2015.
Currently, for violation of the stay rules in Ukraine the administrative materials under Part 1 Art. 203 of AICU were drawn up as to the 47-year-old Russian. Further legal decision with regard to the Russian will be made by staff of Migration Service.
And at the airport "Kharkiv" the border guards of Kharkiv Detachment together with interacting authorities identified the Iraqi citizen, who might have been involved in organizing a channel of illegal migration to Ukraine and Europe.
In September last year, the 32-year-old Iraqi citizen, invited 4 citizens of Iraq by the notarial consent to the territory of Ukraine. The man ensured their place of residence and timely departure from Ukraine, but being on the territory of Ukraine till the present time the foreigners have violated the stay rules in Ukraine. So far, the search actions continue as for his four wards.
The staff of State Migration Service of Ukraine has drawn up the Protocol on administrative offense for violation of order to grant housing, vehicles and assistance in the provision of other services to the foreigners, and imposed an administrative penalty in the form of a fine.
Currently, the issue on deprivation of the offender's residence permit on the territory of Ukraine is under consideration.
Source:https://dpsu.gov.ua/ua/news/prikordonniki-viyavili-inozemciv-yaki-porushili-pravila-perebuvannya-v-ukraini/