03-02-2018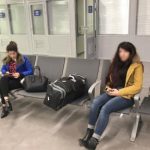 The border guards found and detained two citizens of Iraq with false passports at the international airport "Odessa" during registration of the passengers for the flight "Istanbul-Odessa».
Thus, during verification process the border detail had doubts as to the validity of passport documents owned by the citizens, who arrived for registration. As to the results of the in-depth review of submitted documents the fact of forgery of the information page in the passports was confirmed.
The offenders were not passed and returned in the opposite direction. The passport documents were confiscated.
Another person having false document was revealed by the border guards in the check point "Boryspil". The offender arrived by the flight "Baku-Kiev" and tried to get to Ukraine by false passport of a citizen of the UK. Since the man had one more passport, it became known that he was a citizen of Iraq.
Now, the foreigner will be returned by a back flight.
Source: https://dpsu.gov.ua/ua/news/v-aeroportah-odesi-ta-kiva-prikordonniki-zatrimali-3-gromadyan-iraku-yaki-namagalis-potrapiti-v-ukrainu-za-pidroblenimi-pasportami/