28-02-2018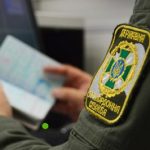 The target preventive action "Migrant" aiming at monitoring the implementation of legislation requirements in migration sphere being performed by the staff of the State Border Guard Service in cooperation with the State Migration service and the National Police of Ukraine.
Thus, for the past day within the framework of the above mentioned activities of the interagency group in Ismail city the Moldovan citizen was revealed having expired permanent residence on the territory of Ukraine. And in the city of Vinnytsya, the law enforcement officers found a citizen of Moldova, who exceeded the stay period on the territory of Ukraine and a citizen of Pakistan being on the territory of our country without registration of temporary residence.
The staff of HD of SMSU in Odessa and Vinnytsya regions drew up the protocols under the Part 1 Art. 203 CCU as to which the offenders were fined for 510 UAH.
The decision on voluntary return to the homelands was made as to both citizens of Moldova.
Source:https://dpsu.gov.ua/ua/news/na-odeshchini-ta-vinnichchini-viyavili-troh-nezakonnih-migrantiv-iz-moldovi-ta-pakistanu/