02-03-2018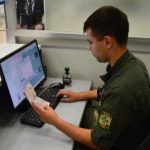 The border guards of Separate checkpoint "Kyiv" stopped the family of Turks with false documents in the international airport "Boryspil".
During the check in for the flight "Athens-Kiev-Brussels", the staff of BGS found an invalid document belonged to the Turkish citizens, who were traveling as a family.  When passports were inspected on a special technical device it was found that the child's document contained the signs of partial forgery, namely, the replacement of information pages. In the course of the conversation, the Police learned that the parents bought false document for 1000 EUR.
So far, the family us taken off the flight, and in the near future they will be returned by a back flight.
Source:https://dpsu.gov.ua/ua/news/simyu-turkiv-z-pidroblenim-dokumentom-zatrimali-prikordonniki-u-borispoli/