05-03-2018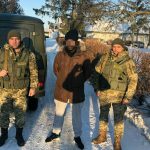 In the course of the operational and preventive actions titled "Migrant" the border guards revealed a foreigner with invalid documents.
The district inspector of BD "Porubne", Chernivtsi Detachment, informed about the appearance of unknown person on the outskirts of the village Terebleche, Hlybotskyi district.
During the inspection of the foreigner it was revealed that three of them were Syrian citizens and had valid passport documents. Concerning the fourth man, being a citizen of Angola, he was also apprehended.
It was established that the foreigner's passport expired already two years ago. In this connection, administrative protocols were prepared as to 31-year-old African with regard to his violation of the border regime and breach of the stay rules in Ukraine.
Source: https://dpsu.gov.ua/ua/news/na-bukovini-prikordonniki-viyavili-nelegala-iz-angoli/