07-03-2018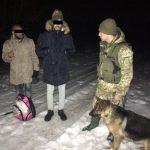 The border guards of Mostyskyi Detachment prevented another violation of the state border of Ukraine.
Last night one of the residents of the border villages informed the district inspector of BD "Krakovets" about appearance of two African foreigners. Response team of the border guards started to search out the unknown persons, who were detained 400 meters before from the state border.
These were citizens of Morocco, born in 1988 and 1989, they had documents and a residence permit in Ukraine. During the analysis it became clear that the foreigners were first year student of one of the Ukrainian universities. However, the men were unable to provide a reasoned answer, what were they doing near the border on the EU so far away from the University. Subsequently, the travelers had admitted that their goal was to go to neighboring Poland and then to Europe.
For attempt of illegal crossing of the state border of Ukraine, committed by a group of the foreigners they will be brought to administrative responsibility. Under Part 2 Article 204-1 of AICU it is stipulated to fine these persons in the amount of 8.5 thousand UAH each.
Source: https://dpsu.gov.ua/ua/news/na-kordoni-z-polshcheyu-zatrimali-dvoh-marokkanciv/