08-03-2018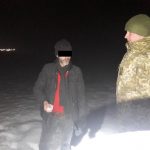 Illegal migrant was detained late in the evening last night by the border guards of Lviv Detachment near the border on Poland.
The offender intending to cross the Ukrainian-Polish border illegally was detected in the result of information received from the staff of the operational divisions of SBGS. The man traveled towards the border with a passport document of a citizen of Turkey, was stopped for 1.5 kilometers before the border by the border detail of BD "Rava-Ruska".
So far, the detainee Turk was delivered to Border Guard Department with the purpose to perform filtration-verification measures and draw up administrative and procedural documents.
Source: https://dpsu.gov.ua/ua/news/prikordonniki-zatrimali-turka-bilya-kordonu-z-polshcheyu/