09-03-2018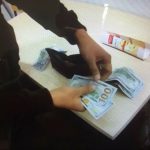 The border guards of the Separate checkpoint "Kyiv" refused to accept the bribe in the amount of $ 800.
The citizen of Iraq offered an undue benefit, which during the border control in the check point "Boryspil" was denied in passing through the border as he did not confirm the purpose of his trip to Ukraine.
When he was returned by the back flight, the foreigner offered the employee of SBGS $ 800, and received a categorical refusal. So far, the citizen is denied in entry across the border. In general, since the beginning of the year staff of SBGS refused in accepting the bribes in more than 130 cases.
Source: https://dpsu.gov.ua/ua/news/gromadyanin-iraku-namagavsya-za-800-dolariv-ssha-nezakonno-potrapiti-v-ukrainu/