13-03-2018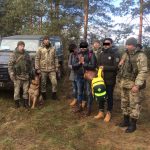 Three Indian citizens were detained by the border guards of Lviv Detachment during their attempt to cross illegally the state border.
Information about unknown persons' appearance nearby the Ukrainian-Polish was reported to the border guards of BD "Rava-Ruska" by the employees of Operative Search Divisions of State Border Guard Service.
During the information processing, detail composed of border guards and investigators found and detained 3 citizens of India. They intended to bypass the checkpoints in order to get into the EU.
The detainees having documents and arriving to Ukraine within the established procedure were taken to the unit by the border guards to clarify the circumstances of the offense and drawing up administrative documents.
Source: https://dpsu.gov.ua/ua/news/na-uzlissi-bilya-kordonu-z-polshcheyu-prikordonniki-zatrimali-troh-gromadyan-indii-/