13-04-2018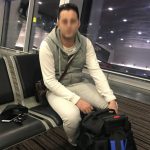 The border guards Separate checkpoint "Kyiv" exposed a foreigner who resorted to cunning for illegal crossing of the border using a completely fake passport.
Thus, in the course of transit passengers list analysis, it became known that was a citizen of Iran arrived by the flight "Bangkok-Kiev-Istanbul", who was not in this list. By mean of the cameras, it was determined that the passenger deliberately threw his passport in the capital's airport and changed his clothes in the public toilet. Subsequently, the foreigner intended to continue his trip on another flight, namely "Kyiv-Prague-London" using a completely fake passport of the citizen of Israel.
So far, the person is handed to the staff of the airline aiming to further sending him to the country of origin.
Source:https://dpsu.gov.ua/ua/news/prigodi-inozemcya-z-pidroblenim-dokumentom-u-stolichnomu-aeroportu-/