13-04-2018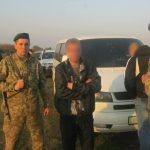 The border guards of Sumy Detachment together with the operational staff of SBGSU detained illegal migrant.
In the course of received information processing by the staff of SBGS about the possible smuggling of a group of illegal migrants across the border from Russia to Ukraine, the border patrol of the mobile subdivision directly on the border line in the area of the settlement Velyka Pysarivka stopped the car "Volkswagen" of Ukrainian registration driven by the Ukrainian. There was also a citizen of Georgia inside the vehicle.
It was previously established that the foreigner was illegally trafficked across the Russian-Ukrainian border.
So far, the emergency actions specified by the legislation are performed. The notification about the criminal offense under the Article 332 of the Crime Code of Ukraine is forwarded to the National Police (illegal transportation of persons through the state border of Ukraine).
Source:https://dpsu.gov.ua/ua/news/nezakonnogo-migranta-iz-gruzii-prikordonniki-zatrimali-na-sumshchini/