25-05-2018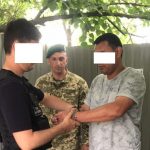 The channel of illegal transportation of persons through the state border from Ukraine to Moldova is exposed in a result of the staff interaction of the State Border Guard Service of Ukraine and Border police of the Republic of Moldova.
In the course of the joint actions it was established that the organizer of this channel was the citizen of Kyrgyzstan. In the course of 2016-2017 he organized and carried out illegal smuggling of migrants from Asia and Africa through the state border of Ukraine.
In August 2017 he was expelled from Ukraine, but soon he illegally came back and adjusted the illegal transportation human channel. So, among other things, the investigators had documented the trafficking two citizens of Morocco to Moldova.
Upon establishing the person and place of his stay by the help of the staff from operational units of the Southern Regional State Border Guards Service of Ukraine, the citizen was detained and called to administrative responsibility.
On May 24, he was, during the Representative Meeting of the Border Guards he was handed to the Moldavian Border Police in the check point "Palanka" in order to make him criminally responsible. Currently, he is under arrest.
Source: https://dpsu.gov.ua/ua/news/prikordonniki-ukraini-ta-moldovi-likviduvali-kanal-peremishchennya-osib-cherez-kordon/