13-062018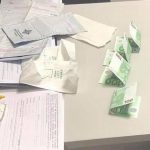 A citizen of India was detained in the Boryspil Airport for bribing the border guards aiming to enter the teritory of Ukraine in illegal way.
The military Prosecutor's office (Kyiv) is performed procedural supervision in the criminal proceedings on the fact of a bribe proposal by a foreigner in the amount of 400 Euro to the officer of the State Border Guard Service that is as to the signs of the criminal offense under Part 3 Art. 369 Criminal Code of Ukraine.
It has been established that the citizen of India tried to bribe the officers of the State Border Guard Service in the check point "Boryspil". The foreigner offered the Senior Lieutenant an undue benefit in the amount of 400 euro for his admission to Ukraine, as he had the ban on entry into the territory of the country.
The Indian citizen was detained by the policemen in the airport "Boryspil" in accordance with the Article 208 of the Criminal Procedural Code of Ukraine. Primary investigative actions are continued.
Source: https://dpsu.gov.ua/ua/news/gromadyan-indii-ta-grecii-yaki-proponuvali-habari-prikordonniki-ne-propustili-v-ukrainu/