18-08-2018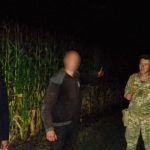 The law enforcement officers continue to use a range of effective measures to counter illegal migration across the state border of Ukraine.
So, the border guards of Sumy Detachment together with the staff of the National Police in the frame of the joint special border operation "Border-2018" and target preventive actions "Migrant" detained illegal migrants being accompanied of the Ukrainian citizen.
In the course of previously received information from the staff of the Operative ad Searching Units of the SBGS about possible unlawful activity, the joint detail of the BD "Krasnopillya" and Head Department of the National Police in Sumy region nearby the village of Turiya by means of the thermal surveillance device detected and revealed the citizen of Ukraine, who attempted to smuggle the citizen of Azerbaijan from Ukraine to the Russian Federation. Both men did not have any identity documents.
Now, the citizen of Ukraine is established – he was a local inhabitant of one of the villages near the border. The detained offenders were delivered to border unit for carrying out filtration measures and preparation of all necessary administrative and procedural documents.
Source: https://dpsu.gov.ua/ua/news/pravoohoronci-zatrimali-nelegalnogo-migranta-na-sumshchini/