10-09-2018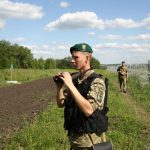 The SBGS staff detained a citizen of the Russian Federation on the site of the BU "Zolochiv", in Kharkiv. The man tried to cross illegally the state border from Russia to Ukraine and later asked for asylum in the country.
The border guards of Kharkiv Detachment detained a Russian citizen, born in 1994, as soon as he crossed the state border. In the course of clarifying all circumstances of the offence, the man applied to the representatives of the State Border Guard Service with a request to grant him a refugee status. During interview he explained that he was strongly opposed to aggressive state policy in his country, and their political views were being persecuted by Russian law enforcement agencies and now he is wanted in Russia.
That is why, for the sake of his life, the man decided to cross the state border beyond the checkpoint and ask for refugee status. Currently, upon completion of all procedures, the citizen of the Russian Federation was handed over to the representatives of the Migration Service of Ukraine.
Source:https://dpsu.gov.ua/ua/news/%20video%20-rosiyanin-cherez-peresliduvannya-v-rf-poprosiv-pritulku-v-ukraini/