16-10-2018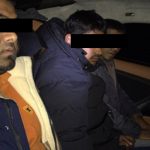 Continuing the measures on counteraction to illegal activities at the state border within the framework of the joint special operation" Border 2018″, the border guards together with the SSU staff and National Police prevented the attempts of illegal movement of persons across the state border.
Due to the exchange of information between law enforcement officers it was managed to track a group of foreigners who were sent by car in the direction of the border.
The vehicle driven by 42-year-old resident of Bukovyn was stopped by the law enforcers on the outskirts of the village Zavoloka, Storozhynetskyi district. Four undocumented citizens of Bangladesh were inside the car.
All detainees were delivered to the Temporary Detention Facility of Chernivtsi Border Detachment. Their further destiny will be decided by the court.
Source: https://dpsu.gov.ua/ua/news/na-bukovini-pravoohoronci-zatrimali-avtomobil-yakim-ukrainec-perevoziv-chetvero-gromadyan-bangladesh/