22-10-2018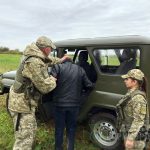 As it was previously reported, the border guards of the BU "Krakovets" detained two immigrants from North Africa according to the information received from the local residents. The Moroccan citizens, born in 1997 and 1999, were found about 100 meters from the border.
And in the area of BU "Shehyni", also thanks to the inhabitants of the borderland, the law enforcement officers detained two citizens of Ghana. The man and woman were walking to Poland bypassing the checkpoint. The man had his passport with a mark of temporary residence permit, the woman was undocumented, she had only a pass from one of the Ukrainian universities.
In addition, the soldiers of the "Shegini" Department detained a citizen of the Republic of Belarus near the place of the previous detention on the outskirts of the border. The man had also hopes to bypass the checkpoint and illegally cross the Ukrainian-Polish border.
In respect of all detainees, the documents have been drawn up on administrative offences for their attempt to cross illegally the state border of Ukraine. The decision will be made by the court.
Source: https://dpsu.gov.ua/ua/news/prikordonniki-zatrimali-bilya-kordonu-z-polshcheyu-gromadyan-marokko-ganni-ta-bilorusi/